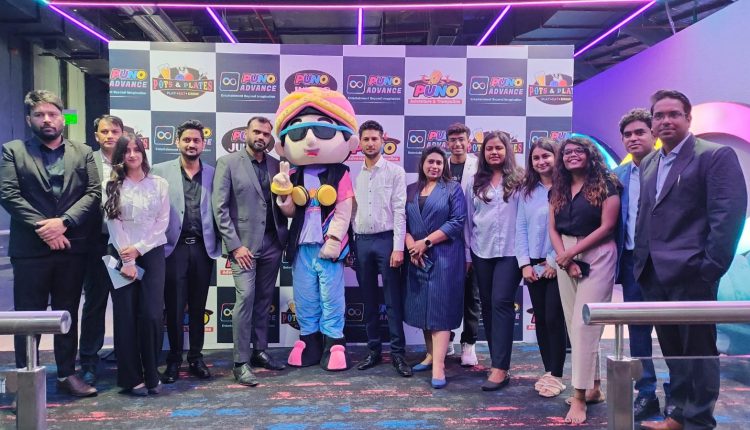 Puno Advance – Pune's Hi-Tech Gaming Wonderland at Phoenix Market City
Pune (Voice news service):-The tech city of Pune welcomes its newest and most advanced amusement park, Puno Advance, which promises an unmatched and thrilling experience for visitors of all ages. Situated within the sprawling Phoenix Market City, Puno Advance covers an impressive 30,000 sq ft area, offering a plethora of indoor adventure games and activities that cater to tech-savvy enthusiasts and entertainment seekers alike.
Today marks the grand inauguration of this state-of-the-art gaming destination, introducing Pune to a whole new world of cutting-edge Virtual and Augmented Reality.
Unleashing the World of Augmented Bowling: At Puno Advance, patrons will be delighted to experience Augmented Bowling – a revolutionary twist to the traditional game. Through the integration of advanced technology, the bowling experience is elevated to new heights, bringing unparalleled excitement to each roll of the ball.
Glow in the Dark Trampoline: For the first time in Pune, adventure seekers can embark on an exhilarating journey at The Dark Trampoline. Every jump taken on this unique attraction promises a thrilling experience like no other.
Arcade & VR Games Galore: The amusement park boasts the largest classic arcade games zone in Pune, catering to those nostalgic for the retro gaming era. Visitors can relive their cherished childhood memories as they immerse themselves in the world of timeless arcade games. Additionally, Puno Advance offers an array of VR games that transport players to virtual realms, providing an entirely new level of gaming excitement.
VEX – FREE ROAM VR: Pune takes pride in being the home of India's first VEX – FREE ROAM VR at Puno Advance. Adventure enthusiasts can indulge in thrilling war-based games that push the boundaries of virtual reality, all through the convenience of their mobile devices.
PUNO JUNIOR – Fun for Toddlers: In keeping with its commitment to be a family-friendly destination, Puno Advance presents PUNO JUNIOR, a dedicated section catering to the youngest visitors. Here, toddlers can enjoy age-appropriate activities that not only entertain but also enhance their burgeoning talents and skills.
Play, Eat, and Drink – POTS & PLATES: Puno Advance adheres to the mantra of "Play, Eat, and Drink," and staying true to this ethos, the park features a fabulous sports lounge and bar concept called POTS & PLATES. Guests can relish delectable treats while immersing themselves in the world of play, creating a perfect blend of entertainment and dining.
This Entertainment park had already taken Jaipur by storm, captivating visitors with its high-tech offerings and unparalleled experiences.
Now, the city of Pune has the opportunity to enjoy this enthralling gaming destination, adding another layer of excitement to its vibrant entertainment landscape.
Speaking at the inauguration, the founders expressed their delight at introducing Puno Advance to Pune and promised to continually innovate and introduce new gaming marvels in the future. The amusement park has undoubtedly emerged as a must-visit destination for both residents and tourists, providing an escape into the world of cutting-edge technology and unmatched amusement.
Pune's residents now have the chance to explore a world where reality and fantasy converge, pushing the boundaries of entertainment and unleashing an unparalleled thrill that will undoubtedly keep visitors coming back for more.